Looking for Collectables Auction Software that gets results?
Our online auction software is known around the world for providing collectables auctioneers with robust, reliable software that bidders have come to know and love.
With a full suite of online auction tools at your fingertips including timed, webcast, sealed and pre-bid functionality, our software provides auctioneers with an online hub to manage each and every aspect of your auctions.
Feature rich with a number of great options for you to customise, this software is designed for the modern auctioneer. Our software is designed to work seamlessly across all platforms and browsers, including mobile phones and tablets, without the need to download additional apps!e With endless options for video and audio streaming, to engage and immerse your bidders in the world of online bidding. The software runs directly off your existing website, giving your bidders the chance to interact with your brand, and stay on your website whilst selling things online.
Our online software is smart, and built to drive bidders to the items they're after. With in-built filtering technology to categorise lots, finding lots of interest has never been easier.
It's all about simplifying the process of online bidding, and making the process of bidding online more accessible to the online community.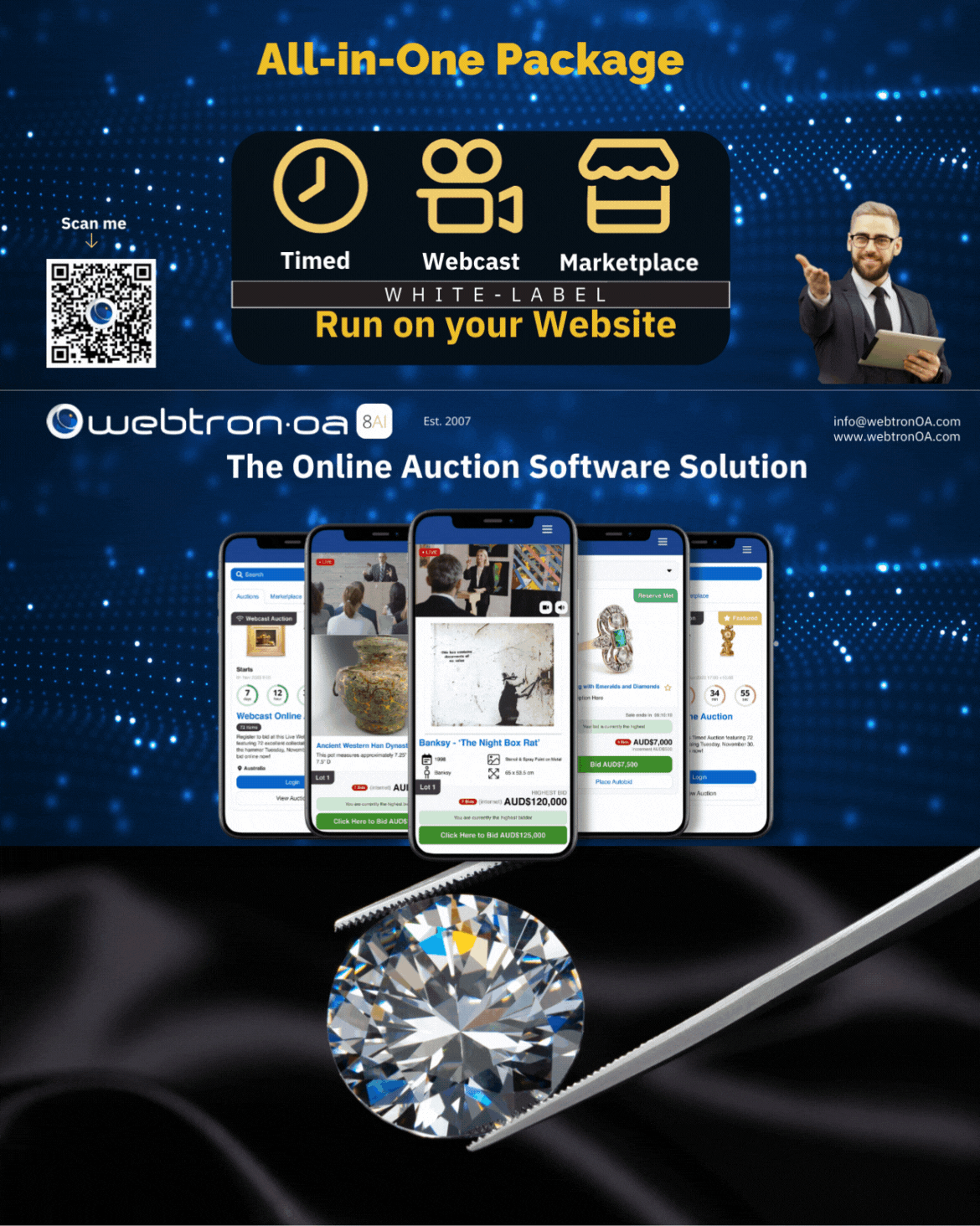 A modern interface for running successful online sales
The custom white label platform allows you to run auctions from your own website in your brand, colours and logos. Our quick and easy set-up option means that you could be running your first online collectables auction in just a few hours.
Our online auction software is perfect for collectables auctioneers who are looking to expand their geographical reach, potentially targeting international markets.
You will be spoilt for choice with timed online auctions and webcast auctions as standard functions within the system, and all of your favourite auction features including pre-bidding, bid extension and lot staggering.
With infinite text descriptions and pictures, and email auto outbid notifications built straight into the system, there's no stone left unturned when it comes to setting up the perfect online auction for your bidders.
Our expert marketing and technical support teams are designed to offer each and every one of our clients a full network of worldwide support options for each and every auction, and to ensure that each sale runs smoothly.
Simplify the way you run online auctions with our stunning software
Currency and language options mean that the system can be localised for international bidders, and our in-built invoicing and payment gateway makes paying for items super easy. With all of these features, it's hard to imagine that there's anything this great system doesn't do!
So don't be shy and perhaps request a demo. There's no one better than yourself to decide just how our online auction software can help you be the face of change in your industry.
Online auction solutions for your business
🎥 Live Webcast Auctions
⏳ Timed Online Auctions
📈 Marketplace
👩‍💻 Remote Clerking option
✅ Everything you need & will run from your own website
🏷 White Label Auction Software – 'value protect your bidders & IP' ( Not a group site
)
So modern works on all devices without frustrating bidders to download apps
🧑‍💻 Includes Setup, Training & Local Ongoing Support
🧾 Auction invoicing & reporting
🖥 Websites & marketing
😊 Simple for bidders and powerful for auctioneers
So ready to get started?
The newest Webtron 8.0AI Auction Software has arrived
There has never been a better time to upgrade your online auction software to Webtron's 8.0AI newest auction software release.
Take advantage of a white label auction solution that runs from your own website. It has been designed for Collectables auctioneers like you to take your online auction business to another level.
It's 'Simple for bidders and powerful for auctioneers'.
Please get in touch and arrange a demo for your business.
What is clearing sales software for auctioneers?
Clearing sales software for auctioneers is a digital solution that enables auctioneers to manage and conduct clearing sales, which are auctions of personal property on a farm or rural property.
How does clearing sales software work?
Webtron clearing sales software allows auctioneers to list and display items for sale, manage bidding, and conduct auctions in a secure online environment.
What are the benefits of using clearing sales software?
Using clearing sales software offers several benefits, including increased reach and access to potential buyers, improved efficiency, better transparency and accountability, and real-time tracking of auction results.
Is clearing sales software easy to use?
Webtron clearing sales software solutions are designed to be user-friendly and easy to use. Training and support is offered for auctioneers and bidders to become familiar with the software.
What type of reporting features does clearing sales software offer?
Webtron clearing sales software solutions offer a range of reporting features, including bidder information, auction results, revenue generated, and other performance metrics.
Fill in your details below to learn more about our collectables software